The Ultimate Guide to the Best Streaming Devices
Jul 18, 2023 | Home Technology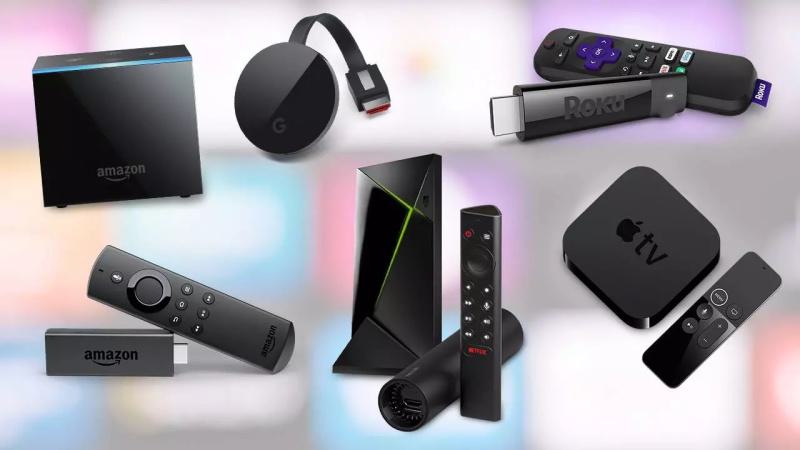 Are you a streamer? As more cable subscribers have cut the cord, streaming has revolutionized the way we consume media. With the rise of high-speed internet, especially fiber internet, streaming devices have become essential gadgets for every household. They offer a gateway to a vast array of entertainment options, allowing you to easily access your favorite TV shows, movies, and streaming services.
Let's explore some of the top streaming devices for movies, sports, TV shows, and live TV and how each works even better with fiber internet. Many of these devices connect to your TV via the HDMI port on the back of your smart TV, making setup super simple and quick. These devices are listed alphabetically, not ranked.
Amazon Fire TV Cube
One of two great Fire TV devices, the Amazon Fire TV Cube combines a streaming device with an Alexa-powered smart speaker, offering hands-free voice control for your entertainment system.
You can use voice commands to navigate apps, control playback, and adjust volume. The Cube supports 4K Ultra HD, works on various formats, and has an Ethernet port for a direct internet connection if you choose not to stream over Wi-Fi.
Amazon Fire TV Stick 4K Max
This popular streaming device offers an extensive streaming app ecosystem, including Netflix, Hulu, and Amazon Prime Video. With a built-in voice remote and Alexa integration like they have on the Echo, you can control your TV using voice commands. Search for your next show or movie without typing.
The Amazon Fire TV Stick 4K also supports HDR10+ for enhanced picture quality and has an Ethernet port for a direct internet connection. Like many other Amazon products, the Fire TV Stick 4K works with the Alexa voice remote, making it easier to reach your home screen and find what you want to watch.
Apple TV 4K
Designed for Apple enthusiasts, Apple TV 4K delivers a seamless streaming experience across all your Apple devices. With AirPlay, you can effortlessly stream content from your iPhone or iPad to your TV. Want to find a show quickly? Ask Siri.
The device supports Dolby Atmos for immersive audio and offers a wide range of streaming apps and games through the Apple Arcade platform. Add a good soundbar to your home theater setup and take advantage of the amazing sound Apple TV 4K offers.
Google TV with Google Chromecast
Google TV combines the power of a streaming device with the convenience of a smart TV interface. Powered by Wi-Fi and Google Assistant, it offers seamless integration with your smart home devices.
You can enjoy stunning picture quality and immersive audio with support for Dolby Vision and Dolby Atmos. The Chromecast feature allows you to directly cast content from your smartphone or computer to your TV.
Nvidia Shield TV
The Nvidia Shield TV offers high-performance streaming and gaming capabilities aimed at gamers and media enthusiasts. Its powerful processor and 4K HDR support provide excellent picture quality and smooth streaming. The device runs on Android TV and comes with Google Assistant for voice control and smart home integration.
Roku Ultra
The Roku Ultra is a versatile streaming device known for its user-friendly interface. It supports 4K HDR and Dolby Vision HDR for exceptional picture quality. With its voice remote and search functionality, you can quickly find your favorite shows and movies.
The Roku Ultra also offers a private listening feature, allowing you to enjoy your content with headphones connected to the remote control.
Roku Express 4K Plus
If you're looking for an affordable streaming device with full theater (or better) resolution, the Roku Express 4K Plus is a great choice. It offers 4K streaming, HDR10, and Dolby Atmos support. With its compact size and easy setup, it's a perfect option for any TV and a great way to enjoy the Roku Channel.
The Fiber Connection
Streaming devices have become indispensable tools for enjoying your favorite TV shows, movies, and streaming services. With fiber internet, these devices can truly shine, delivering seamless streaming experiences with faster download speeds and enhanced picture quality.
Whether you prefer Google TV, Amazon Fire TV, Apple TV, Roku, or Nvidia Shield, each device offers unique features and functionalities to cater to your streaming needs. So, upgrade your home entertainment setup with a streaming device that suits your preferences and start enjoying the world of streaming content at your fingertips.
Google TV
google chromecast
Amazon Fire TV Cube
Amazon Fire TV Stick 4K Max
Apple TV 4K
Roku Ultra
Nvidia Shield TV
Roku Express 4K
streaming services
---