What is NPS, and Why Does It Matter?
Dec 7, 2022 | Industry News
If you've purchased a service or product from certain companies – including Gateway Fiber – you probably received a survey asking about your experience. This survey becomes the baseline for how a company is performing overall. How much do customers like them? There are many forms of customer service surveys, but the most popular one is called the Net Promotor Score or NPS.
NPS was created by Bain and Company in 2003 and has since been adopted by millions of businesses worldwide across various industries, not just internet service providers, as the gold standard of customer satisfaction.
Who uses NPS?
All sorts of companies ask their customers for NPS tallies to guage customer happiness. This important data is an internal monitoring tool to ensure the company is fulfilling its mission and satisfying customers. It can also be used as a marketing tool to attract new customers by demonstrating how happy current customers are.
Businesses using NPS range from booksellers to entertainment venues to automobile dealerships to internet providers, and they rely on NPS data to sculpt their customer service strategies moving forward. What are they doing well? What could they improve? What are customers saying about the competition? How do they stack up?

What does the NPS score mean?
An NPS survey asks one simple question: "How likely is it that you would recommend Company X to a friend or colleague?" Respondents pick a number between 1 and 10, with 10 being the highest. The scoring system is broken down into three categories based on customer scores:
Promotors score a 9 or 10, are typically the happiest, and tend to be brand champions.

Passives score 7 or 8, which means they are happy but not overly enthusiastic.

Detractors are everyone else, scoring 0 to 6. These folks are unhappy and unlikely to recommend the product or service.
How we stack up.
In the internet service industry, scores range widely from provider to provider. According to PC Magazine data collected in August 2022, the average NPS rating among the top 16 ISPs in the country is a less-than-stellar 4.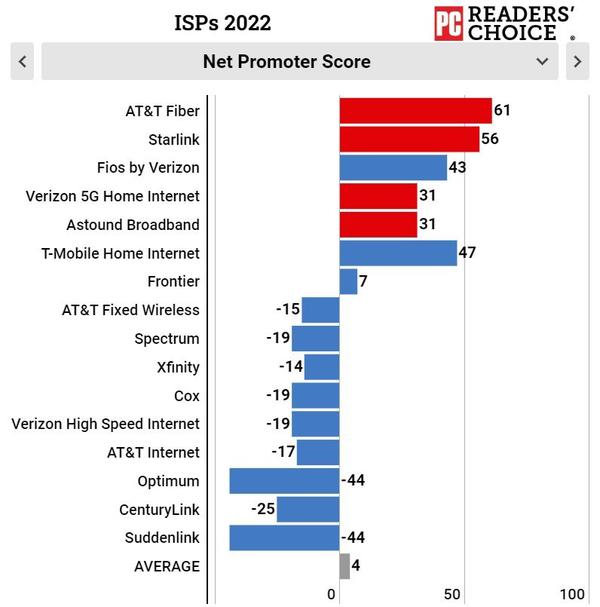 We are proud to report that since we started, our overall Net Promotor Score hovers between 70 and 80, over 18x the industry average. This exceptionally high NPS rating means Gateway's customers are far happier with our internet service than customers of other internet providers.
Our customers are surveyed more than once. To be sure we are doing a consistent job of taking care of customers, we send the first NPS survey 30 days after service activation to gauge their initial satisfaction with their new service. Then we send additional surveys every six months thereafter to see if they are still happy. Judging from the responses, it's safe to say our customers generally like our service.
If you'd like to join the ranks of happy Gateway customers, check your address and see if we service your neighborhood. We'd love to help you have a better, happier internet experience.
nps score
net provider score
customer satisfaction
---