May 9, 2022
Gateway Fiber Awarded $10 Million in National Grant
Gateway Fiber Awarded $10 Million in National Grant to Expand Broadband Internet Coverage in Lincoln and St. Charles Counties
Wright City, MO — Wright City-based Gateway Fiber has been awarded $10 million as part of a $42 million grant to the State of Missouri from the National Telecommunications Information Administration (NTIA) to expand broadband internet coverage in underserved communities. Gateway received the largest share of this funding state-wide.
The US Department of Commerce (DOC) announced in late February that Missouri will receive the grant money to expand broadband coverage in several communities where residents do not currently have access to high-speed internet.
Locally, the grant funds will allow Gateway Fiber to reach nearly 5,000 homes and businesses in underserved communities in Lincoln and St. Charles County, including areas surrounding St. Paul, Josephville, Winfield, Moscow Mills, and Old Monroe. Through Gateway's future-proof fiber optic network, these areas will be able to access the internet with hyper-fast symmetrical speeds up to 1 Gig, the same fast speeds available in major metropolitan areas.
"The NTIA funding will allow us to offer dramatic broadband upgrades to these areas," said Heath Sellenriek, President of Gateway Fiber. Gateway's fiber-optic network brings state-of-the-art infrastructure to communities that don't have a solid internet option right now. As a result, most homes will see a ten-fold improvement, from slower speeds to Gateway's fiber-optic network.
"These communities have struggled to gain access to reliable internet connections," Sellenriek continued. "Residents often must settle for satellite, cable, or DSL internet connections, which are older, slower technologies. Gateway's fiber-optic connection provides much faster and more reliable internet to unserved and underserved communities that need this technology to fuel the future."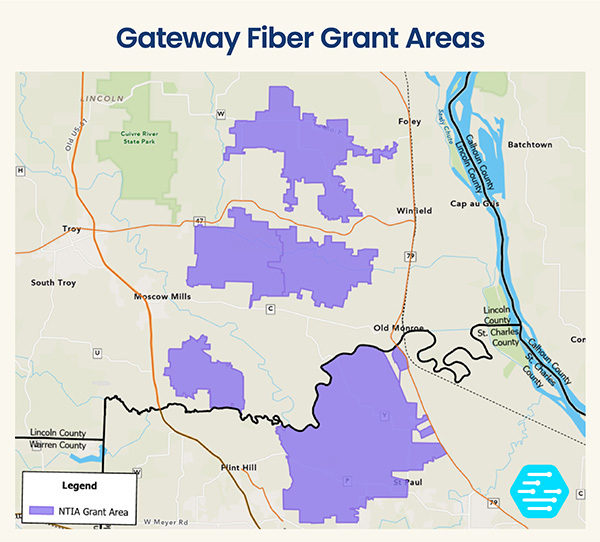 Mayor Vernon Bauer of St. Paul, one of the areas slated to benefit from the new fiber internet service, praised the grant award as a necessary move forward for local internet infrastructure development.
"This award brings us one step closer to closing the digital divide and enabling our community and our neighbors to have fast, reliable internet access," Bauer said.
Gateway is in the planning stages for this expansion and anticipates that funds from the NTIA grant will enable them to start building this infrastructure in late 2022 or early 2023.