January 26, 2023
Gateway Fiber Awarded Over $25 Million in ARPA Funds
Bringing High-Speed Fiber Broadband Internet to More Areas of Lincoln and Warren Counties
Wright City, MO — More residents in Lincoln and Warren counties will soon have access to high-speed fiber optic internet, thanks to $25.4 million awarded to Gateway Fiber by the state of Missouri as part of $261 million the state received through the American Rescue Plan Act (ARPA) Broadband Infrastructure Grant Program.
Gateway Fiber was among the largest awardees in the program. The funds will allow Gateway Fiber to bring its 1 Gig symmetrical service to more parts of Warren and Lincoln Counties. Fiber is the industry-leading technology for broadband access and infrastructure that will support these communities for decades into the future. This expansion of service will be one of the biggest in the St. Louis region, including areas such as Marthasville and other nearby communities.
"The communities we are adding have struggled for a long time to get good internet access," said Heath Sellenriek, CEO of Gateway Fiber. "Families today rely on great internet access as much as they rely on electricity and phone service. Residents often must settle for satellite, cable, or DSL internet connections, which are older, slower technologies. The ARPA funding will allow us to offer reliable internet service to these areas at an affordable price."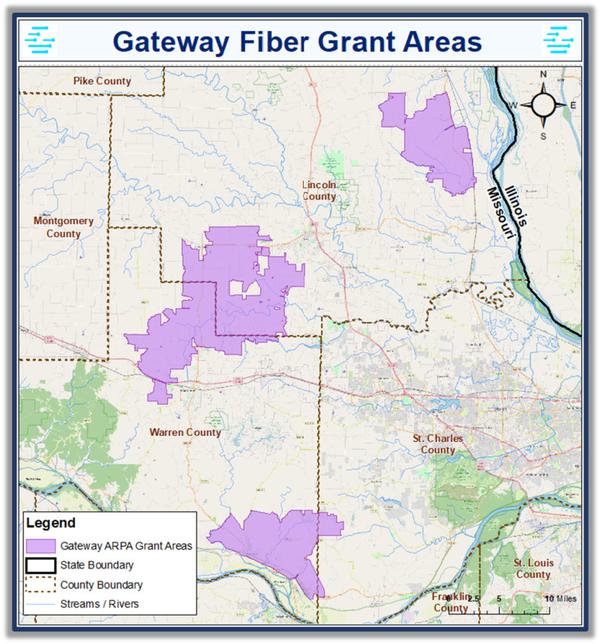 Many areas that will benefit from new high-speed connections currently rely on slower and less reliable cable, DSL, and satellite internet. With speeds over 65 times faster than legacy connections, fiber optic internet can carry the bandwidth necessary for households to easily work from home, Zoom, game, and surf faster and not worry about having enough internet signal for everyone to be online at the same time. Local businesses will also benefit from increased bandwidth to allow faster file sharing and a better online experience for customers.
"Warren County is excited to see Gateway Fiber's internet infrastructure growing in our community, and this additional funding will help make that possible," said Joe Gildehaus, Warren County Presiding Commissioner. "High-speed internet is crucial to everyday life, with so many more people doing so many more things online than ever before. Fiber is the future, and we're excited to be a part of it."
Julie Rodgers, Executive Director of Lincoln County Economic Development echoed the sentiment. "The ARPA funding is a huge help for providing high-speed internet access to even more Lincoln County residents," Rodgers said. "Now more of our community can connect to the internet faster."
Interested homeowners or businesses can sign-up for service and receive construction updates here.