What is the Internet of Things? How does IoT Work?
Dec 28, 2021 | Home Technology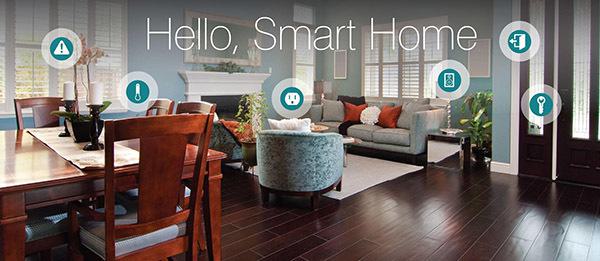 Thanks to the internet, our world is more connected than ever. You can keep in touch with out-of-town relatives, explore vacation spots before you pack your bags, and look up information on just about anything you want in seconds. All this connectivity has also added a higher level of convenience never before seen, as various daily activities and tasks can now be automated, leaving us time to do other things. But how does it work? And what exactly can you do with what we now call The Internet of Things or IoT?
IoT is a framework of interconnected devices, typically monitored and managed via smartphones or tablets. They rely on the internet to speak to each other and work together to make your life easier.
Some examples of IoT devices include:
Smart thermostats: Adjust the temperature either through your phone or by allowing the thermostat to monitor itself and adjust for various times of day and other conditions.

Wearable health monitors: Check your vitals, go for a run, track your steps, and listen to music, all through a watch-like device strapped to your wrist and linked via Bluetooth to your phone. Data is stored in the cloud for future analysis.

Wake up and smell the coffee: Program your magic elixir maker to start the caffeination process right when you wake up, prepared to the exact brew strength and temperature you set up last night via your smartphone. (Don't let anyone tell you coffee isn't a food group. You don't need that kind of negativity in your life.)

Preheat the oven: Need to cook dinner but you're in a hurry? Get a jump on it by starting the oven remotely on your way home so it will be ready when you get there.

Manage your home wifi: If you have a mesh network at home, you can customize the coverage areas, start or suspend cloud backup, and change passwords on the fly. Need to set up a temporary password for the babysitter or house guests? Done in seconds.

Who's at the door? Look through the video camera in your doorbell. And talk to the person from wherever you are. Not really home? They'll never know.

Package arrived! Find out when your order got there through notifications sent to your phone. You can even start the return process before you get home if you change your mind about what's inside.

Control your garage door: Did you remember to close it when you left for work this morning? No need to drive all the way back home to find out. Check it and close it via the app.

Smart locks: Speaking of doors, install a smart lock on your front door and you can both monitor and control access remotely. You'll be super glad you did the first time you lock yourself out. Got your phone? You can still get inside.

Restock the fridge: Never run low on milk, eggs, and bread again. Your refrigerator can monitor the levels of frequently purchased products and alert you when it's time to run to the store. That way you'll be ready to make French toast for the next snowstorm.

Smart television: Binge-watch your favorite episodic programs while the streaming service offers suggestions about what else might interest you, served up to your TV or smartphone for later.

Smart cars: From keyless starting with only a fob in your pocket to onboard navigation, your car is the smartest it's ever been. It can even assist investigators after an accident via an onboard black box. Due for an oil change? Your car knows when and can send a note to the mechanic to schedule your appointment.

Lawn maintenance: Grass getting dry? Set the sprinkler system to operate only when the lawn needs it to save water and not saturate your grass. This efficiency can also help you save some green with lower watering costs.

Alexa/Siri/Google Assistant: Creepy factor aside, many folks find these always-on, hands-free tabletop assistants convenient for everything from online research to setting up reminders to entertaining at parties. They can also help you find your nearest fiber optic internet provider. (Hint, hint)

Autonomous vacuum: Having a robotic floor cleaner that sweeps your floors on its own and even tells you when it's full doesn't suck. Well, okay, it really does suck, but that's a good thing.
The IoT doesn't only apply to consumers. Industries use it, too. For example:
Barcode scanners: This basic function that we've seen for decades is a simple way for companies to track inventory at the store level and parts and processes in manufacturing. Zap it and it goes to the cloud.

Automated machines: Ever wonder how industrial robots work? They are often programmed and supervised remotely. Sensors connected to a plethora of computers constantly monitor the work, looking for hiccups in quality control and issuing new instructions when needed.

Remote work: Thanks to a global pandemic, working from home became far more popular, as did remote learning when offices and schools worldwide closed yet stayed connected thanks to the IoT.
Get the most out of the IoT
There is no question the internet has revolutionized the way the world operates in many ways, from large industrial organizations to the smallest tasks around the house. Bandwidth demands are constantly growing, with millions more devices coming online daily. Keep up with your needs with a 100% fiber-optic internet connection.
smart home
IoT
fiber home
Wi-Fi
mesh network
---